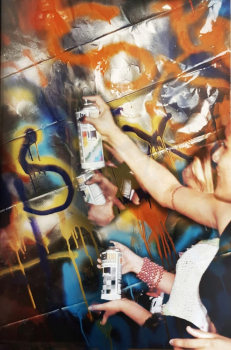 Addressing the needs of young migrants is a paramount concern for us. To this end, we have established a dedicated space to engage in discussions and critical reflections on politics, extending beyond conventional educational opportunities. We actively support the development of strategies that facilitate knowledge sharing and production. 
In the field of youth initiatives, young migrants are joining together and implementing various projects with the support of maiz. They critically deal with their situation as young migrants in Austria, explore new possibilities and strategies to actively participate in the political and social life of Linz. 
We facilitate collective processes that involve designing and implementing action plans and possibilities for intervention. This provides a platform to articulate concerns publicly, in one's own voice, with creativity and a critical mindset. Ongoing discussions revolve around vital themes like exclusion, isolation, racism, sexism, identity, awareness, and recognition. Moreover, we offer opportunities to acquire media-related skills and to experiment with them. Young individuals can engage in activities such as creating newspapers (e.g., the youth magazine "maizOne"), producing TV and radio broadcasts (e.g., "dorf_tv," "radio FRO"), curating exhibitions (e.g., maizensgalerie by maiz), and creating and performing theater productions (e.g., employing method of the Forumtheater by Augusto Boal).
maiz-youth projects can be visit in the Blog: https://maiz-maedchenprojekt.tumblr.com/